A Cabin UP NORTH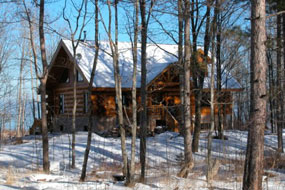 Cabin on Lake Superior
2651 Highway M-64
30978 W. Highway M-64
Silver City, MI 49953
Phone:773-870-2522
Lodging on Lake Superior in Silver City, Michigan, 5 miles east of the Porcupine Mountains Wilderness State Park and 10 miles west of Ontonagon, MI in the Upper Peninsula of Michigan.
A Cabin UP NORTH is a year round vacation log home nestled on 3.5 acres on the shoreline of Lake Superior with 1000 feet of private beach. This beautiful log home has 3 bedrooms and two baths and sleeps up to 8 guests. Wood burning fireplace in the living area.
Please, No Smoking and Pets are not permitted
For additional information or reservations:
Call 773-870-2522 or e-mail acabinupnorth@yahoo.com
Click here for more information on A Cabin Up North Vacation Home
Photographs Courtesy of Dorina Grunberg
Copyright 2004 by Char Simons, webmaster. All Rights Reserved. Except as permitted under the Copyright Act of 1976, as amended, this web site may not be reproduced in whole or in part in any manner. Unless authorized by the webmaster, reproduction of any picture, web page or pages on this website, www.exploringthenorth.com, for placement on the internet is a copyright infringement. All right, title and interest in and to the material on these web pages, the web site, in whole or in part, and in and to this url and the urls contained within, is the property of the webmaster. All website design, text, graphics, selection and arrangement thereof are the copyrighted works of Char Simons. Web site created on an Apple G-4 on 3/17/04.