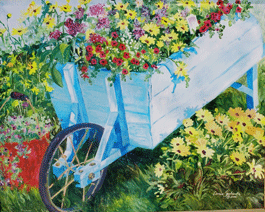 Art Shows, Artists, Galleries, and Photographers in the
Upper Peninsula of Michigan
Upper Peninsula Art Shows
"Art For All," Iron Mountain, MI, Saturday June 25, 2011 from 10 am to 4 pm. Annual Juried Art Show at Bay College West, Highway US-2, on the north side of Iron Mountain from 10 am to 5 pm. Rain or Shine.

Spread Eagle Art Show, Spread Eagle Wisconsin, 7 miles northwest of Iron Mountain, Michigan. Annual Juried "Art Show in the Woods", July 22, 2012 from 9 am to 3 pm at the Chuckwagon on Highway US-2 and Carpenter Road in Spread Eagle, Wisconsin. Fun for the whole family.
Artists
Niko Economides, Marquette, MI. Custom Woodwork includes Hand Carved Dove Tail Chests, Wall Cabinets, Sculptures and Furniture. Visit the Superior Odyssey Ship's Store docked at the Lower Harbor in Marquette or contact Niko for directions to his Bear Pond Woodscraft studio. Phone 906-361-6644
Sharon O'Kane Schmeltzer, Kingsford, MI. Surrealistic - Abstract - Realistic - and Whimsical Art. She primarily works in Oil but also Pastels, Water Colors, Pen and Ink, Colored Pencils, Graphite, and Mixed Media. Sharon is an award-winning artist represented throughout the midwest in galleries. Some of her paintings are on exhibit at the Art Works Gallery, 111 Stephenson Ave. (Highway US-2), Iron Mountain, MI

Galleries

Anchor In Naubinway Cafe & Art Gallery is located on Highway US-2, 42 miles west of the Mackinac Bridge by Lake Michigan. Stop for a deli sandwich, salad, specialty coffee, tea, or one of our delightful deserts and ice cream specialties. Wi-Fi area with comfortable seating, fireplace, & TV. Art Gallery featuring local artists. Nice selection of books about the Upper Peninsula. Open daily. W11632 US-2, Naubinway, MI 49762. Phone: 906-477-1120.
Art Gallery at Mountain View Lodges. Wide variety of art work on display including photography, fused glass, wire wrapped jewelry, hand dyed silk scarves, chainsaw carvings, plus much more. Mountain View Lodges, 34042 M-107, Silver City, MI 49953. Phone: 906-885-5256 or 906-885-5947
Peninsula Shores Gallery, W16397 Pine Street, Gould City, MI 49838. Phone: 906-477-6303. Photographs of the wilds and wildlife of the Upper Peninsula. Painted by Mother Earth & Father Sky, Captured by Jim O'Neil. See both ends of the Rainbow and The Mystical Midnight Thunderbird. Open most weekdays from mid-May through mid-November. By appointment only from mid-November through January 1st. Closed January 2nd through May 14th.

The Village Artisans of Garden is a delightful Art Gallery filled with fine arts and crafts created by Upper Peninsula Artists. Enjoy the beautiful paintings, photography, pottery, weaving, jewelry, fabrics, metal creations, wood turning, baskets, glass blowing, stained glass, home made jams, interesting books, plus much more. The Garden Art Gallery is open daily from Mid-May through Mid-October. Located between Escanaba and Manistique, 8 miles south of US-2. Turn south at Garden Corners on Highway M-183 to the town of Garden, Michigan. Phone 906-644-2025.

Shops Featuring Works of Local Artists

Violet Sunset Gift Shop, 22608 Lakeshore Drive, Ontonagon, MI. Phone: 906-884-4230. Gifts and souvenirs including natural and hand crafted copper, Clearheart windchimes, Spoontiques Lighthouses, Tubbs snowshoes, books of regionalinterest, local craft items, photography by Richard Mascola, T-shirts, and sweatshirts. Open daily.
E-Mail for more Information
Back to the Upper Peninsula Traveler
Back to Exploring the North Home Page
Oil Painting by Laurie Sucharda, Full Moon Studio, Port Washington Wisconsin
Registered Copyright 1997 by vivian wood, the webmaster for Exploring the North, Inc. All Rights Reserved. Except as permitted under the Copyright Act of 1976, as Amended, this web site may not be reproduced in whole or in part in any manner. Unless authorized by the webmaster of Exploring the North, Inc., reproduction of any web page or pages on the Exploring the North website for placement on the internet is a copyright infringement. All right, title and interest in and to the material on our web pages, the web site, in whole or in part, and in and to this url and the urls contained within, is the property of the webmaster for Exploring the North, Inc. Web site created on an Apple G-4.