Kitch-iti-kipi is located just west of Manistique at Palms Book State Park. Go 6 miles west of Manistique on US 2 to Thompson, take M-149 north for 12 miles to the park.
One of the Upper Peninsula's major attractions, Kitch-iti-kipi or "The Big Spring" is two hundred feet across and forty feet deep. Over 10,000 gallons a minute gush from many fissures in underlying limestone, the flow continuing throughout the year at a constant 45 degree temperature so the spring never freezes and can be enjoyed any season of the year.
When you arrive at Palms Book State Park a short walk on a 50 yard paved path through pines and cedar trees takes you to the shoreline where you see this beautiful emerald green pool.

A self-operated observation raft guides visitors to vantage points overlooking fascinating underwater features and fantasies.
This raft is on a cable that is pulled across the pool by a park employee or can easily be operated by any visitors to the park. The fast flowing spring can be seen through the viewing windows or you can look over the side of the viewing raft. This beautiful crystal clear spring can also be enjoyed from the shore.
Ancient tree trunks, mineral-encrusted branches and fat trout appear to be suspended in nothingness as they slip through crystal waters far below. Clouds of sand kept in constant motion by gushing waters create ever-changing shapes and forms, a challenge to the imagination of young and old alike.
Near the Spring is a pleasant and shaded picnic area, modern toilet facilities and a park store. Pick up a picnic lunch and enjoy your meal in this quiet, peaceful park. Beverages, some food items, and souvenirs available at the Park Concession Store.
Try a winter visit on skis or snowshoes. Snowmobile and cross country trails are nearby. Kitch-iti-kipi is about 300 yards down on the Park's unplowed road, but you will find a most memorable sight - Kitch-iti-kipi bubbling away in the middle of winter. No wonder the Indians thought the spring was magical.
Palms Book State Park is open daily from May 15 through September 30. Michigan State Park Vehicle Permit needed for admission. There is no camping or fishing at Palms Book State Park but you can enjoy both at nearby Indian Lake State Park or at the many nearby lakes and streams.
The Legend of Kitch-iti-kipi
Kitch-iti-kipi was supposedly a young chieftain whose girlfriend got the best of him. He told her he loved her far above the other dark-haired maidens dancing near his birchbark wigwam. "Prove it," she insisted. As a test of his devotion, she declared that he must set sail in his canoe on the pool deep in the conifer swamp. He was to catch her from his canoe as she leaped from an overhanging bough. His canoe tipped over as he was looking for her, while she was back at her village laughing with the other indian maidens about his silly quest.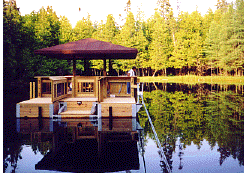 According to legend the Spring was named Kitch-iti-kipi in memory of the young chieftain who went to his death in the icy waters in an attempt to satisfy the vain caprice of his ladylove.
A Little History:
This beautiful quiet spring was discovered deep in the lush wilderness by John I. Bellaire, a Manistique businessman. He enjoyed looking down into the deep crystal clear pool and watching as the big spring presented untold wonders and fish swam deep in the water. John Bellaire could have purchased the property for himself, but he wanted the spring preserved for all to enjoy. In 1926 he contacted Frank Book of the Palms Book Land Company and the purchase of almost 90 acres of land by the State of Michigan was arranged for $10. The deed requires the property "to be forever used as a public park, bearing the name Palms Book State Park." Additional land has been acquired by the State on Michigan so the park now encompasses 308 acres and the dream of John Bellaire and the many legends of Kitch-iti-kipi, the Indian chieftain, and the magical waters of the big spring live on.
Just a short drive north of Highway US-2 and you will be able to enjoy Kitch-iti-kipi
in Palms Book State Park, one of Michigan's most beautiful sights.
Things to see and do near Palms Book State Park
Upper Peninsula State Parks
Recreation in the Upper Peninsula
Upper Peninsula Towns and Cities
Back to Upper Peninsula Traveler
Exploring the North Home Page
Copyright 1997-06 by Vivian Wood, the webmaster for Exploring the North, Inc. All Rights Reserved. Except as permitted under the Copyright Act of 1976, as Amended, this web site may not be reproduced in whole or in part in any manner. Unless authorized by the webmaster of Exploring the North, Inc., reproduction of any web page or pages on the Exploring the North website for placement on the internet is a copyright infringement. All right, title and interest in and to the material on our web pages, the web site, in whole or in part, and in and to this url and the urls contained within, is the property of vivian wood, the webmaster for Exploring the North, Inc. Web site created on an Apple G-4.