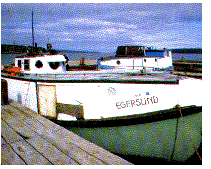 Naubinway & Engadine Michigan
Businesses Welcome You
Anchor In Naubinway Cafe is located on Highway US-2, 42 miles west of the Mackinac Bridge by Lake Michigan. Stop for a deli sandwich, salad, specialty coffee, tea, or one of our delightful deserts and ice cream specialties. Wi-Fi area with comfortable seating, fireplace, & TV. Gift Shop. Open daily. W11632 US-2, Naubinway, MI 49762. Phone: 906-477-1120.
GarLyn Zoological Park, 6 miles east of Naubinway and only 40 minutes from the Mackinac Bridge on US 2. See Live Cougar, Bear, Wolf, River Otter, Camel, Reindeer and more. View the animals up close as they come to the front of their habitats to see you. Purchase grain to feed the camel, goats, llama, deer, tiger, and even the bear! Natural setting. Gift Shop. Kids love it !!! Fun and Educational !!! P.O.Box 245 Naubinway, MI. 49762. Phone 906-477-1085
Snowmobile Museum. Top of the Lake Snowmobile Museum, W11595 Center Street, Naubinway, MI 49762. Phone: 906-477-6298. Michigan's First Snowmobile Museum contains an interesting collection of over 71 antique and vintage snowmobiles along with prototypes and memorabilia. Gift Shop with hats, T-shirts, sweatshirts, and other unique items. Open All Year from 11 am to 5 pm, (Closed Tuesday)
West Mackinac Recreation Area Association covering the western portion of Mackinac County, including south Curtis, Gould City, and Milakokia Lake. Cabins, cottages, resorts, food & beverages, construction & excavating.
---
Snowmobile & ATV Swap Meet: Second Saturday in September.
Located behind the Museum
26th Annual Top of the Lake Antique and Vintage Snowmobile Show & Ride
February 16th to 18th, 2018
Naubinway, MI
For more information, contact Charlie at 906-477-6192, the Museum at 906-477-6298,
or email info@snowmobilemuseum.com
---
Nearby Lodging and other Businesses
Lodging in Trout Lake, MI
Barnyard on Trout Lake. Two Bedroom rental cabin on the shores of Trout Lake, only 35 minutes from the Bridge. Enjoy fishing, swimming, and relaxing by the water. Beach area has a sandy bottom that is shallow for the kids. Row boat. Complete kitchen, washer & dryer, and a living area with a pellet stove for those cool evenings. On the snowmobile and ATV trail. The Barnyard on Trout Lake, 22215 Agulium Road, Trout Lake, MI 49793. Phone: 906-569-3821.
Lodging on Milakokia Lake near Gould City, Michigan
Green Gables Resort on Milakokia Lake, N6129 Milakokia Lake Road, Gould City, MI 49838. Phone: (906) 477-6207. One and three bedroom housekeeping cottages on Milakokia Lake, only 60 minutes west of the Bridge. Full kitchens. Satellite TV. Each cottage comes with a 14' aluminum boat with rental motors available. All cabins are lake front with a screened porch overlooking the lake. Sandy swimming area, grass yard, a 100 foot dock, and a fish cleaning house.
Little Cove Resort on Milakokia Lake, N5956 E. Milakokia Lake Road, Gould City MI, 49838. Phone 906-477-9956. Three year round 2 bedroom and one 3 bedroom cottages, each with a boat. Rental motors available. Campground with flush toilets. 200 feet of Milakokia Lake shoreline with private docks. Childrens play area. Fish, swim, snowmobile or relax. 12 miles south of Curtis, one mile south of US 2 on East Milakokia Lake Road. On the trails.
E-Mail Us for more information
Exploring Naubinway Page
Upper Michigan Towns and Cities Page
Back to Upper Peninsula Traveler
Exploring the North Home Page
Copyright 1998 by Vivian Wood, webmaster. All Rights Reserved. Except as permitted under the Copyright Act of 1976, as amended, this web site may not be reproduced in whole or in part in any manner. Unless authorized by the webmaster, reproduction of any picture, web page or pages on this website, www.exploringthenorth.com, for placement on the internet is a copyright infringement. All right, title and interest in and to the material on these web pages, the web site, in whole or in part, and in and to this url and the urls contained within, is the property of the webmaster. All website design, text, graphics, selection and arrangement thereof are the copyrighted works of Vivian Wood. Web site created on an Apple G-4