Exploring Big Bay,
Michigan
23 miles north of
Marquette in the beautiful
Upper Peninsula of Michigan
Big Bay is 23 miles northwest of Marquette near Lake Superior and Lake Independence, surrounded by water and wilderness. The town of Big Bay is situated on Lake Independence, with Lake Superior to the north and east and the McCormick Wilderness Tract and the Huron Mountains to the west. Big Bay is one of our finest 4 season recreational areas.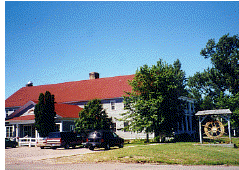 The McCormick tract is 16,850 acres of wilderness with 18 small lakes and the Yellow Dog Wild and Scenic River. There are many trails and paths through the wilderness for hiking, back country skiing and snowshoeing. Enjoy the solitude in this undisturbed woodlands setting.
This is a fishing paradise with walleye, northerns, small mouth bass and yellow perch in Lake Independence, local streams and rivers full of trout and lake trout fishing on Lake Superior. Guides available for the remote inland lakes. Excellent ice-fishing. The state record yellow perch was caught in Lake Independence.
Enjoy Boating, water-skiing, swimming, and fishing on Lake Independence.
The Big Bay area is a great place for Mountain Bikes and ATVs. There are trails everywhere through the woods and in the Escanaba River State Forest.
This is moose country, take a ride through the woods to see if you can spot a moose. Moose are most likely to be seen in the early morning and evening when they come down to the lakeshore to drink.
In the fall, come for our outstanding color season. The flaming maples, oaks and other hardwoods make a perfect backdrop for the calm waters of the inland lakes.
Late in the fall, there is excellent hunting for partridge, squirrel, deer and bear.
Big Bay receives an amazing amount of lake effect snow and is located on the 2,500 miles of snowmobile trails connecting the entire Upper Peninsula. Enjoy cross-country skiing, snowsnoeing, and ice fishing.
Big Bay Pointe Lighthouse

Located on Lake Superior, 23 miles northwest of Marquette. This light was established in 1896 and automated in 1945. The Big Bay Pointe Lighthouse is now privately owned, but may be viewed from the road.
Big Bay Lodging and other Businesses
Maps of Marquette County and Big Bay MI
Back to Upper Peninsula Towns and Cities Page
Back to Upper Peninsula Lodging
Back to the Upper Peninsula Traveler
Back to Exploring the North Home Page
Copyright 2001 by Vivian Wood, webmaster. All Rights Reserved. Except as permitted under the Copyright Act of 1976, as amended, this web site may not be reproduced in whole or in part in any manner. Unless authorized by the webmaster, reproduction of any picture, web page or pages on this website, www.exploringthenorth.com, for placement on the internet is a copyright infringement. All right, title and interest in and to the material on these web pages, the web site, in whole or in part, and in and to this url and the urls contained within, is the property of the webmaster. All website design, text, graphics, selection and arrangement thereof are the copyrighted works of Vivian Wood. Web site created on an Apple G-4