LAKE GOGEBIC MOTEL, RENTAL COTTAGE,
SNOWMOBILE, & SIDE by SIDE (SxS) RENTAL
456 North Street at the corner of Highway M-28, Bergland, MI 49910
Phone 906-575-3262 E-Mail: lakegogebicmotel@hotmail.com
Your Host is Casey

Sled Rental
2023 Ski-Doo Renegade 600
2023 Ski-Doo Renegade 600 2-Up




Please call for Rates

The Lake Gogebic Motel is located in Bergland, Michigan near Lake Gogebic and all the wonderful natural beauty and outstanding recreation available in the Western Upper Peninsula of Michigan.
The Lake Gogebic Motel offers 15 rooms with double or queen-size beds that will accommodate from 1 to 7 guests. Our guest rooms offer 1 to 3 bed units with cable TV and free Wi-Fi. A fridge, air-conditioning unit, and a rollaway bed are available if desired. Please let us know when you make your reservation and we will have it ready for you. A microwave is available in the lobby for guests to use. Rates range from $75 and up, depending on the room and the number of guests.
The Lake Gogebic Motel is conveniently located on Highway M-28 at the north end of Lake Gogebic with a gas station and restaurant next door. We are only 2 blocks from the Lake Gogebic Park and boat launch for fishing, boating, and water sports for summer fun. There is easy access to the ATV and snowmobile trails from the motel door with a large lot for your trailer and truck parking.
RENTAL COTTAGE: 3 Bedroom, 1 bathroom vacation rental near the motel. Heated attached garage. Sleeps 5. Direct trail access. Please call or e-mail for additional information.

Welcome to Big Snow Country in the Western Upper Peninsula.
Call for your reservation or trail conditions.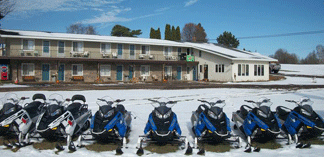 LAKE GOGEBIC
Lake Gogebic is the largest lake in the Upper Peninsula with over 13,000 acres of water and 36 miles of shoreline for year round enjoyment. Enjoy great fishing for walleye, smallmouth bass, northern pike, jumbo perch, and panfish as well as boating and water sports. The area also offers hunting for deer, bear, small game, and birds. Sightseers will enjoy the several nearby waterfalls including Bond and Agate Falls and the natural beauty of the Upper Peninsula.
Pets Welcome.
Plan for a wonderful vacation in the Western Upper Peninsula of Michigan at the Lake Gogebic Motel and Sled & Side by Side (SxS) Rentals.
For reservations and additional information call 906-575-3262 or
E-Mail: lakegogebicmotel@hotmail.com
Visit our website at www.lakegogebicmotel.com







The Root Cellar invites you to experience the pristine wilderness that surrounds our resort and the peace that the Lake gives you while visiting our wonderful area. We are on Lake Gogebic which is a quiet lake nestled in the 960,000 acres of the Ottawa National Forest. Most like to say it's one of the Best Kept Secrets.

The Root Cellar has a lot to offer everyone who stays here. There is a newly built Inn with basic type rooms, 2 bedroom units and even a couple of suites for those special stays. There are also 4 cabins with full kitchens and the larger two cabins have free-standing fireplaces, bonfire pits for summer use. All cabins have a deck that looks out onto the beautiful lake. Our Inn, cabins and restaurant can accommodate banquets, weddings, reunions and retreats.

The Root Cellar Restaurant is known to be one of the finest dining establishments in the Western Upper Peninsula. We offer steaks and shrimp along with nightly specials. There is something for everyone on our menu. The summer months the restaurant is closed on Mondays and Tuesdays.







Recreation and Attractions in Ontonagon County
Upper Peninsula Towns and Cities
Upper Peninsula Traveler Home Page
Photos: Lake Gogebic Motel