| | |
| --- | --- |
| | Lost Lake - One of the Best |
If you want a wilderness experience without backpacking into the forest, come to Lost Lake. Bring everything you need as it is at least 10 miles to a little store or place to eat. This part of the Nicolet is located in Florence County, approx. 20 miles west of Florence via State Highway 70 and Forest Roads 2450 and 2156. Lost Lake is about a one hour drive west of Iron Mountain, via U.S. Highway 2 and State Highway 70.
Caution: there is an abundance of wildlife in this area. Keep all food in your vehicle or hang it from a tree away from your camping area. Put all trash in the proper receptacles before nightfall. If you hear a noise around your tent or RV at night , don't go outside to see what it is - skip taking a picture of "Smokey". After all, it might be a skunk.
Lost Lake - The shoreline is rimmed by a natural stand of virgin hemlock and white pine. The lake and shoreline is totally owned by the Nicolet National Forest. There are just two developed facilities on the lake, the camp area and primitive cabins. There are several resident loons. This 86-acre lake is stocked with brown and rainbow trout, and smallmouth bass. No motors are permitted on the lake. A boat access area, small picnic area with hiking paths all around it, and a swimming beach are available.
Camping is available in 28 large sites. This camping area is one of the "secret" places known mainly to residents and their families. The campground is rarely filled except for the 4th of July and Labor Day. Sites are large and separated by trees and bushes. All sites have a tent pad, picnic table and fire-ring, but no standing cooking unit. Vault toilets and drinking water are located throughout the camping area. The sites are large enough that you don't see the campers in the next camp site. This is not like camping near a highway or town.
Do you enjoy leisurely walks? Here you will find many opportunities for scenic strolls amid the aspen and sugar maple. The Assessor's Interpretive Trail is on the east end of Lost Lake adjacent to the Lost Lake Campground. It winds through majestic hemlocks and hardwoods and through a stand of 150-year-old hemlock and pine for a deep-woods experience. Interpretive signing along the trail explains the natural and cultural history of this area. One of the highlights is the "Assessor White Pine". Trail Length: 1 mile loop. Difficulty: Gently rolling terrain, with resting benches midway. One loop of the trail is wheelchair accessible.
Lost Lake Campground is open from May 1 to Nov.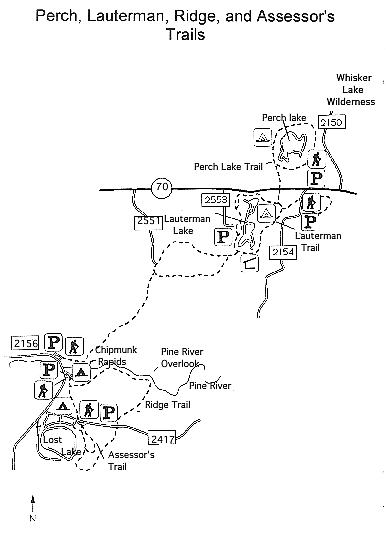 Recreation in the Upper Peninsula of MI
Back to Upper Peninsula Traveler
Northern Wisconsin Traveler
Back to Home Page: Exploring the North
Copyright 2002 by Vivian Wood, the webmaster for Exploring the North, Inc. All Rights Reserved. Except as permitted under the Copyright Act of 1976, as amended, this web site may not be reproduced in whole or in part in any manner. Unless authorized by the webmaster of Exploring the North, Inc., reproduction of any picture, web page or pages on this website for placement on the internet is a copyright infringement. All right, title and interest in and to the material on our web pages, the web site, in whole or in part, and in and to this url and the urls contained within, is the property of the webmaster for Exploring the North, Inc. All website design, text, graphics, selection and arrangement thereof are the copyrighted works of Vivian Wood. Web site created on an Apple G-4.