Snowmobiling in
Paradise, Michigan
The scenic town of Paradise, Michigan, 60 miles north of St. Ignace on Highway M-123, welcomes all snowmobilers and skiers to the area.
With an average snowfall of more than 200 inches annually, and more then 200 miles of perfectly groomed, well marked trails that wind throughout the region, the winter adventurer can travel from Paradise to Tahquamenon Falls, Newberry, Whitefish Point and back again. You can travel for miles in virtually any direction and never travel the same trail twice. The Luce-Chippewa County areas offer the snowmobiler an unparalleled opportunity to experience unspoiled wilderness beauty first hand, while still seeing friendly faces in the small communities that dot the trail system.
The local trail system connects to other trails crossing the entire Upper Peninsula. Interconnecting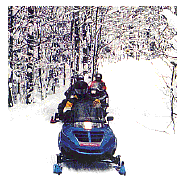 trails lead to such beautiful sites as Tahquamenon Falls, the rugged shore line of both Lake Michigan and Lake Superior, communities rich in local history and thick forests filled with wildlife. Yet, after your ride through the wilderness, you're never far from welcoming residents, comfortable accommodations and places to warm up and grab a bite to eat. In fact, you'll experience Upper Peninsula hospitality anywhere you stop.
Heading southwest from Paradise will take you to the massive, 35,000-acre Tahquamenon Falls State Park, home of the second largest waterfall east of the Mississippi. It's spectacular beauty is a must see any time of the year, although it's particularly impressive when surrounded by snow and ice sculpture. Remember your camera! This is scene you'll want to remember.
Directly to the north of Paradise is the Whitefish Point Lighthouse and Great Lakes Shipwreck Museum. The lighthouse is the oldest working lighthouse on Lake Superior. Beginning operation in 1849, it signals a change in course for ore carriers and other ships navigating the treacherous area to and from St. Mary's Canal and the Soo Locks.
In planning your snow lovers get away to the Paradise area, remember to make your reservations early so that you're sure you've got a place to stay. The popularity of this destination makes advance plans a must. Once you're here, you'll enjoy some of the finest snowmobiling adventures of your lifetime.
Paradise MI: Food, Lodging and Other Services
Recreation & Snowmobile Rentals in the Paradise Area
Annual Wild Blueberry Festival, mid August
Back to Upper Peninsula Towns and Cities Page
Back to Upper Peninsula Traveler
Back to Exploring the North Home Page
Copyright 1997 by Vivian Wood, webmaster. All Rights Reserved. Except as permitted under the Copyright Act of 1976, as amended, this web site may not be reproduced in whole or in part in any manner. Unless authorized by the webmaster, reproduction of any picture, web page or pages on this website, www.exploringthenorth.com, for placement on the internet is a copyright infringement. All right, title and interest in and to the material on these web pages, the web site, in whole or in part, and in and to this url and the urls contained within, is the property of the webmaster. All website design, text, graphics, selection and arrangement thereof are the copyrighted works of Vivian Wood. Web site created on an Apple G-4