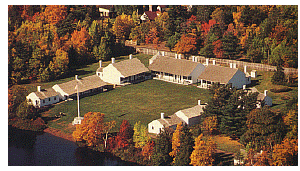 Exploring Fort Wilkins Historic Complex and State Park
Copper Harbor, Michigan
At the northern tip of the Keweenaw Peninsula along Lake Superior's rugged shores stands the Fort Wilkins Historic Complex, a well-preserved nineteenth-century military post and lighthouse complex. Built in 1844 to keep peace during Michigan's Copper Boom, the fort was abandoned just two years later, then briefly re-garrisoned in the late 1860's.
In a setting virtually undisturbed by modern intrusions, nineteen buildings survive, twelve of them dating from the 1840's. Through museum exhibits, audio-visual programs and costumed interpretation, visitors can explore the daily routine of military service, experience the hardships of frontier isolation and discover the lifeways of another era. There are evening slide programs, living history programs and an annual Civil War Encampment.
Included in this historic complex are the Copper Harbor Lighthouse, one of the first beacons on Lake Superior, and the Pittsburgh and Boston Company mine sites, where in 1844 a small work force sank the first commercial mine shafts on Keweenaw Point.
Fort Wilkins Historic Complex, located in Fort Wilkins State Park, is administered by the Michigan Department of State in cooperation with the Department of Natural Resources. Open 8:00 a.m. to dusk daily, mid-May to mid-October. Admission by State Park Permit. For more information contact: Fort Wilkins State Park, Copper Harbor, Michigan 49918 or phone 906/289-4215. Facilities: Park Store, Book Store, 165 Campsites, full concession stand with food and souvenirs. Allow at least 2 hours for a visit.
Campground has 165 sites, electricity, flush toilets, showers, boat launch and sanitation station. For reservations, call 1-800-44-PARKS.
Back to Michigan Towns and Cities Page
Back to Upper Peninsula Traveler
Back to Exploring the North Home Page
©1997 by the webmaster for Exploring the North. All Rights Reserved. Except as permitted under the Copyright Act of 1976, as Amended, this web site may not be reproduced in whole or in part in any manner. Unless authorized by the webmaster of Exploring the North, Inc., reproduction of any web page or pages on the Exploring the North website for placement on the internet is a copyright infringement. All right, title and interest in and to the material on the web pages, the web site, in whole or in part, and in and to this url and the urls contained within, is the property of the webmaster for Exploring the North, Inc.