The Woods Canoe and Kayak Rental
Canoe & Kayak Trips on the Tahquamenon River
Highway M-123, at the corner of M-123 and Fordney Tower Road
Phone: 906-203-7624
www.thewoodscanoerental.net
C L O S E D F O R 2 0 2 0 S E A S O N D U E T O C O V I D - 1 9
The Woods Canoe & Kayak Rental Offers:
Family friendly paddling trips on the Tahquamenon River beginning near Newberry.
Daily and Weekly canoe & kayak rentals for nearby lakes and rivers with delivery or customer pick up.
Delivery to nearby campgrounds.
Shuttle Service provided.
Pets Welcome.
Open Daily
Rentals run from mid-May through mid-October
9 am to 5 pm
Located 12 miles north of Newberry or 10 miles west of the Upper Tahquamenon Falls on M-123.
Canoe & Kayak Trips on the Tahquamenon River
All trips include shuttle service, paddles and PFD's.
There are NO Hidden Charges
The Woods offers a variety of family friendly paddling trips on the Tahquamenon River with easy paddling for all ages. Trips begin near Newberry and take 1 1/2 hours, 3 hours, and 4 1/2 hours on the peaceful Tahquamenon River with abundant wildlife, photo opportunities, and fishing. Pets are welcome on our canoe and kayak trips.
SHORT TRIP
An easy short gentle paddle and ideal for beginning paddlers or families with young children. You start at the Dollarville Dam and end at the Logging Museum. It takes about 1 1/2 hours to explore this area of the river in a canoe, but take as long as you like.

Rates: 1st Canoe or Kayak: $45
2 Kayaks: $55
Each additional Canoe: $35/ Kayak: $27.50

TRIP A
This trip begins on Highway M-123 at the Bridge over the Tahquamenon River on the north side of Newberry. Paddle down a 6 mile stretch from the Bridge to McPee's Landing. This paddle takes about 2 1/2 to 3 hours or you can take all day if you wish. A fun t rip for the entire family.

Rates: 1st Canoe or Kayak: $50
2 Kayaks: $60
Each additional Canoe: $40/ Kayak: $30

TRIP B
This is a longer trip that begins at the Dollarville Dam, west of Newberry and you paddle to McPee's Landing. This will add about 1 1/2 hours to your trip. Enjoy this beautiful scenery as you paddle through the peaceful wilderness. Be sure to bring your c amera.

Rates: 1st Canoe or Kayak: $55
2 Kayaks: $65
Each additional Canoe: $45/ Kayak: $32.50

UPPER FALLS TRIP
This trip is ideal for paddling, wildlife viewing, and photography. . . A joy for nature lovers. This trip takes you through "Tahquamenon Country". Your trip begins at a remote launch site and ends about 1/2 mile before the Upper F alls. Plan on at least 3 hours for this trip.

Rates: 1st Canoe or Kayak: $50
2 Kayaks: $60
Each additional Canoe: $40/ Kayak: $30

LOWER FALLS to RIVERMOUTH TRIP
This trip is a scenic 7-9 hour paddling trip beginning at the Lower Falls, and ending at the Rivermouth. Being mostly flatwater, and because of the paddling time, this can be a strenuous, but also rewarding trip for those that are able to fa ce the challenge. Beginning at the base of the Lower Tahquamenon Falls, you will paddle for 17 miles through some of Michigan's most rugged backcountry. Note: We do not recommend this trip for beginners!

Rates: 1st Canoe or Kayak: $65
2 Kayaks: $75
Each additional Canoe: $40/ Kayak: $30.50





2-DAY CAMPING TRIP
A relatively easy overnight trip on the Tahquamenon River that you and your family can do – even if you are a beginner, or inexperienced. This first day of this trip starts at the Dollarville Dam and ends at the Tahquamenon Logging Museum Campground. This paddling trip is only about an hour giving you time for exploring and fishing along the way. The second day is about a three hour paddle to McPhee's Landing to end your trip. All rates are Plus Camping Fee at the Tahquamenon Logging Muse um Campground.

Rates: 1 Canoe: $91 or 2 Kayaks: $131
Each additional Canoe: $56/ Kayak: $48
Plus Camping Fee.




Multi-day Trips Available. Please Call for Informtaion
Map of "Short Trip", Trip "A", & Trip "B" and 2-Day Trip
Ability Required:beginner. . . River Speed: slow. . . Depth: 2'-4' with some deep holes. . . Obstacles: some submerged logs
Visit us at The Woods for all of your canoe and kayak rental needs.
If you would like to canoe or kayak on one of the many lakes and rivers in the area, we offer daily and weekly rentals at affordable prices. Our Woodsman canoes are lightweight and can easily be transported on the roof of most vehicles, or for your convenience, we'll deliver them right to your campsite and pick them up for you. All rentals include paddles and PFDs. Please check our website at www.thewoodscanoerental.net for rental rates.
| | |
| --- | --- |
| | |
| Paddling on the Tahquamenon River. | |
Bring your camera and some snacks and spend a delightful time paddling down the Tahquamenon River.
Pets Welcome
For reservations and additional information,
please call us at 906-203-7624 and leave a message.

Sorry, but we do not accept credit cards.

Visit our web site at www.thewoodscanoerental.net

Mailing Address:
The Woods Canoe & Kayak Rental
Ken Orlang
P.0. Box 536,
Newberry, MI 49868
Phone: 906-203-7624
Map of the Tahquamenon River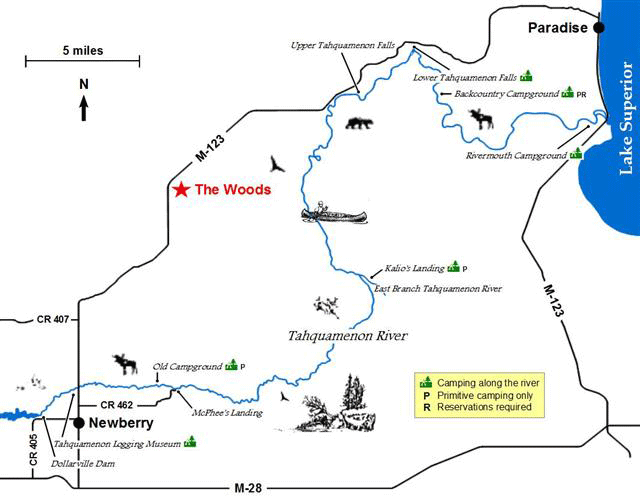 Newberry, MI Recreation
Paradise, MI Recreation
Tahquamenon Falls State Park
Upper Peninsula Traveler Home Page
Photos: The Woods Canoe & Kayak Rentals
Copyright 2010 by Char Simons, webmaster. All Rights Reserved. Except as permitted under the Copyright Act of 1976, as amended, this web site may not be reproduced in whole or in part in any manner. Unless authorized by the webmaster, reproduction of any picture, web page or pages on this website, www.exploringthenorth.com, for placement on the internet is a copyright infringement. All right, title and interest in and to the material on these web pages, the web site, in whole or in part, and in and to this url and the urls contained within, is the property of the webmaster. All website design, text, graphics, selection and arrangement thereof are the copyrighted works of Char Simons. Made on a Mac! 1/10