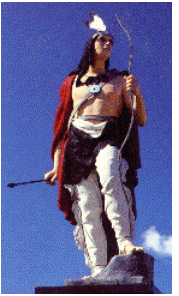 Exploring
Ishpeming, Michigan
in the Upper Peninsula
The City of Ishpeming, 13 miles west of Marquette, was first settled in 1854 and known as "The Lake Superior Location". Ishpeming was named in 1862 and incorporated as a village in 1869. The name Ishpeming is Indian in origin and means "High Place" or "Heaven". The iron ore mining industry and the development of Ishpeming are closely linked. Once the "Boom-Town" of the Upper Peninsula, Ishpeming boasted dozens of upscale stores and a beautiful opera house. A statue of "Old Ish" stands in downtown Ishpeming in commemoration of its Indian origin.
Click Here for
Lodging and Businesses in Ishpeming
The Ishpeming and Negaunee Area has numerous recreational activities during all four seasons of the year. Ishpeming is full of exciting things to do.
Enjoy the Al Quaal Recreation Area (map) with trails for hiking, mountain biking, trail running, and cross-country skiing. Al Quaal is open year round for family fun. In the summer, there is a playground and picnic area, hiking and biking trails, fishing in Teal Lake, tennis courts, and other areas for sports. Log lodges available for rent for your group events. During the winter you will find 20k groomed cross country ski trails for beginner to advanced skiers. Often thought of as one of the most beautiful ski trails around. There is also a small sledding hill.
The area has a 1200-foot iced toboggan slide or you can take the ride of your life trying out the luge run at Lucy Hill. Countless special events are held each winter from snowmobile ride-ins, to biathlon, to ice skating, cross country ski events, to indoor plays and concerts to you name it! For those who enjoy the silent sports, winter in the Ishpeming Negaunee Area offers many options, including five cross country ski areas with more than 20 individual trails. If snowmobiling is your thrill, you'll enjoy the area's beauty along more than 300 miles of interconnecting trails. Snowmobile rentals nearby.
The Ishpeming-Negaunee Area has a multitude of things to see and do in the summer months.
Fish, swim, boat and relax at Teal Lake and the Greenwood Reservoir, surrounding lakes and many streams and rivers.
Take a wilderness and waterfall tour or go on an overnight camping trip into the McCormack Wilderness Track.
Enjoy Jasper Knob, the worlds largest gemstone which is composed completely of jaspilite. Jaspilite is rock made of bands of bright red jasper, alternating with bands of specular hematite. Jaspilite probably creates the most beautiful and interesting rock formations in the entire state of Michigan.
Rockhounds can collect great and unusual specimens in the heart of "mineral country".
Visit the Cliffs Shaft Mine site, a Michigan state historical site. This is the location of one of the most productive of the area's underground iron ore mines. Although the mines were closed in 1969, the shaft buildings dominate Ishpeming's skyline. This site is great for photographers.
See Jackson Monument, which marks the site where iron ore was first discovered in June, 1845.
Explore the 12 beautiful waterfalls in Marquette County.

Watch the ore boats come in to load at the huge ore docks on Lake Superior.

Tour the antique shops and art galleries.

Relax and watch the moose.
Visit the Republic Open Pit Iron Mine, the only open pit iron mine in Michigan open to public viewing. This inactive open pit iron mine, owned by Cleveland Cliffs Iron Company, provides a unique opportunity for viewing by the public. From the observation stand you gain an appreciation of the magnitude of planning and effort involved in the mining of low grade surface deposits of iron ore for our nation's steel mills. The Pit is 600 feet deep, with a pit surface area of 250 acres. The total mine area is 4 miles. When operational, the annual production was 2.7 million tons of pellets of specular hematite.
The Tilden Iron Mine is open for summer tours. Tour one of two working iron mines in the Upper Peninsula. See how iron ore is mined and walk through the plant where ore is processed. Tours run June through August, Tuesdays through Saturdays. Reservations recommended. Phone: 1-888-578-6489. Take a ride north along Lakeshore Boulevard in Marquette to the ore docks. You might see a freighter loading iron ore.
Continue on Lakeshore Bouldvard and take a ride around beautiful Presque Isle Park. Enjoy the hiking, biking, and cross country ski trails.
Among her most notable sons, John Voelker was the author of the novel, "Anatomy of a Murder" which was later turned into an academy award winning film by the same name. The film was shot on location in Ishpeming and starred Jimmy Stewart, George C. Scott, and Lee Remmick. Many of the sites used in the film still stand today.
Historic & Tourist Sites
Suicide Hill Ski Jump, U.S. National Ski Hall of Fame, and the Al Quaal Recreation Area Map (Hiking - Swimming - Skiing - Playground), Local Iron Mine Tours, Michigan Iron Industry Museum, Ishpeming cemetery, and many historic buildings in Ishpeming, Negaunee, and Marquette.
Ishpeming Lodging and Businesses
E-Mail Us for more information
Map of Marquette County and the Ishpeming Area
Upper Peninsula Towns and Cities Page
Back to Upper Peninsula Traveler
Back to Exploring the North Home Page
E-Mail Webmaster
Copyright 1997-06 by Vivian Wood, webmaster. All Rights Reserved. Except as permitted under the Copyright Act of 1976, as amended, this web site may not be reproduced in whole or in part in any manner. Unless authorized by the webmaster, reproduction of any picture, web page or pages on this website, www.exploringthenorth.com, for placement on the internet is a copyright infringement. All right, title and interest in and to the material on these web pages, the web site, in whole or in part, and in and to this url and the urls contained within, is the property of the webmaster. All website design, text, graphics, selection and arrangement thereof are the copyrighted works of Vivian Wood. Web site created on an Apple G-4