Exploring The Keweenaw Peninsula
in the Upper Peninsula of Michigan
The words "Keweenaw Peninsula" are magic to those of us who live here.
The Keweenaw, The Copper Country, the land formed in the PreCambrian era, before the existence of life on the surface of the earth.
The land mined by prehistoric miners, starting in 3,000 b.c., of over 1.5 billion pounds of pure copper.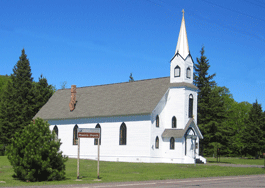 The land embraced by Lake Superior, the largest expanse of fresh water in the world.
The land recognized as copper country by Father Claude Allouez in 1666.
The land of the first mining boom, developed by the men who later were the '49ers of Gold Rush fame.
The land where miners had no roads and everything came and went by ship on an unpredictable Lake Superior. The land where winter travel was by dog sled or on foot.
The land owned by the Chippewas until the treaty of 1843, the land of fur traders, the voyageurs, John Jacob Astor and the American Fur Company.
The land of shipwrecks, brave rescues and heroism by the Lifesaving Service. The land of solitude with our early lighthouse keepers standing their lonely vigils. The land of strong, brave and independent miners.
Welcome to the land of wonderful mineralogical features, of captivating scenery, of rugged hills, waterfalls and healthy air.
The land surrounded by Lake Superior, our Mother of Waters. The land of lighthouses, sandy beaches and agates.
The land of wildflowers, forests, camping, fish, bears, spectacular fall colors and the deepest of winters. The gateway to Isle Royale National Park.
The land of ghost-towns, old mining villages and ruins, the Estivant Pines, old cemeteries and an abundant crop of wild berries.
The land of pasties, churches, mining shafthouses, the Calumet & Hecla Mining Company and the mining tycoons who operated it.
The land of snow, snowmobiling, and skiing.
Welcome to this rugged and picturesque land of outdoor recreation,
beauty, and peace.
Keweenaw Lodging and other Businesses
Attractions and Recreation in the Keweenaw Peninsula
Maps showing location of the Keweenaw Peninsula in the Upper Peninsula of Michigan
Haven Falls near Lac La Belle
One of several beautiful waterfalls
located in the Keweenaw Peninsula.

Enjoy a delightful fall color tour.
Rock Collecting in the Keweenaw Peninsula
Snowmobiling in the Keweenaw Peninsula
Snowmobiling in the Upper Peninsula
E-Mail for More Information about the majestic Keweenaw Peninsula
Upper Peninsula Towns and Cities Page
Back to Upper Peninsula Traveler
Exploring the North Home Page
Copyright 1998 by Vivian Wood, webmaster. All Rights Reserved. Except as permitted under the Copyright Act of 1976, as amended, this web site may not be reproduced in whole or in part in any manner. Unless authorized by the webmaster, reproduction of any picture, web page or pages on this website, www.exploringthenorth.com, for placement on the internet is a copyright infringement. All right, title and interest in and to the material on these web pages, the web site, in whole or in part, and in and to this url and the urls contained within, is the property of the webmaster. All website design, text, graphics, selection and arrangement thereof are the copyrighted works of Vivian Wood. Web site created on an Apple G-4