Exploring Paradise Michigan
On Lake Superior's Whitefish Bay, it's just a little over an hour drive north of the Mackinac Bridge, and a little over an hour drive west of the Soo Locks traveling along the Shoreline Drive. From the bridge, take I-75 north to M-123 into Paradise. (Map)
Paradise (est. 1925) is a small town with a history of shipping, logging, fishing, blueberry and cranberry harvesting. The great fire of 1922 destroyed the natural growth of the land and prepared it for one of Michigan's most productive wild blueberry regions.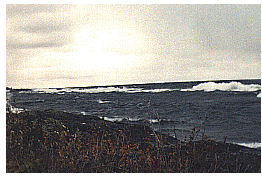 Paradise is the hub of such attractions as the Whitefish Point Lighthouse (fully restored and open for tours), The Great Lakes Shipwreck Museum, Tahquamenon Falls, the Whitefish Point Bird Observatory, fishing, hunting, camping, swimming, snowmobiling, agate hunting, cross-country skiing, snowshoeing and the Annual Blueberry Festival in August.
A community rich with nautical folklore, logging, agricultural and Native American history, visiting Paradise is truly a unique experience.
Nestled among an abundance of natural wonders it provides a playground for outdoor enthusiasts of all varieties. From diving the Whitefish Bay Underwater Preserve to seeing the awesome power of Lake Superior, to exploring the falling waters and vast forests of Tahquamenon Falls State Park, Paradise lives up to its name.
The Paradise area has many boat launch facilities and bank fishing localities. You can expect to find Perch, Pike, Musky, Walleye, Steelhead, Brown Trout, Salmon and other varieties of Michigan fish.
| | |
| --- | --- |
| | Fall visitors will enjoy the beautiful colors and the "Haunted Trail", held in October at Sawmill Creek Township Park, 1/10 mile north of Paradise on Whitefish Point Road, from 7 pm to 10 pm. Come and have a "howling" good time. The trail is a nature walk of about 400 yards, but the Head Ghoul has transformed the trail adding 15 sites of terror, fun, and visually cool effects. Guides will take you through the woods and a concession stand sells hot dogs and chips, home baked goodies, hot spiced cider, coffee, and cocoa. Come out for a scary evening in Paradise. |
In the winter, Paradise is the center for snowmobiling for riders from below the bridge. Make your reservations early and enjoy some of the finest snowmobiling adventures of your lifetime. Groomed cross-country trails at the Paradise Pathway and Tahquamenon Falls State Park.
Food, Lodging and Other Services
Recreation and Attractions in the Paradise Area
Annual Wild Blueberry Festival,
Snowmobiling in the Paradise Area
Map showing the location of Paradise, Michigan
Back to Upper Peninsula Towns and Cities Page
Back to Upper Peninsula Traveler
Back to Exploring the North Home Page
Top Photo: Freighter on Whitefish Bay by Ben Museliak, Shelldrake Shores Construction
Fall Photo: Julie, Wildridge Riding Stable
Copyright 1998 by Vivian Wood, webmaster. All Rights Reserved. Except as permitted under the Copyright Act of 1976, as amended, this web site may not be reproduced in whole or in part in any manner. Unless authorized by the webmaster, reproduction of any picture, web page or pages on this website, www.exploringthenorth.com, for placement on the internet is a copyright infringement. All right, title and interest in and to the material on these web pages, the web site, in whole or in part, and in and to this url and the urls contained within, is the property of the webmaster. All website design, text, graphics, selection and arrangement thereof are the copyrighted works of Vivian Wood. Web site created on an Apple G-4