Rustic Camping in the Tahquamenon Falls Area.
State and National Forests
These forest campgrounds have a large wooded campsite, fire ring, picnic table, tent or trailer pad, drinking water, and toilets. Some camps have sites that can handle a larger RV up to about 30 feet long. Boat ramps. Campgrounds are open from Mid-May through Mid-October. The fee for most forest campgrounds is $15.
There is also camping at Tahquamenon Falls State Park at the Lower Falls
and the Rivermouth Unit at the mouth of the Tahquamenon River
Lake Superior State Forest Campgrounds north of Paradise:
Andrus Lake State Forest Campground is 5 miles north of Paradise on Whitefish Point Road and one half mile west on Vermillion Point Road. 25 rustic wooded sites on Andrus Lake with fishing, boating and swimming. These are spacious sites nestled in the woods.
Shelldrake State Forest Dam camping area is just 2.5 miles west of Andrus Lake Campground on Vermillion Point Road. Shelldrake has 17 wooded campsites, good pike fishing and some rare and unusual birds.
Hiawatha National Forest Campgrounds south of Paradise: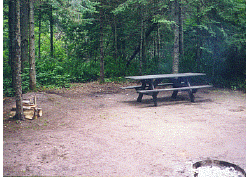 Bay View Campground and Monocle Lake Campground are southeast of Paradise on Lake Shore Drive (Curly Lewis Memorial Highway). Take M-123 north from the Bridge and go past the junction of M-28 to Lakeshore Drive. Turn right (east) and follow Lakeshore Drive to Bay View Campground. 24 wooded sites on the shores of Lake Superior.
Monocle Lake Campground is a little further east of Bay View Campground on Lake Shore Drive and across from the Point Iroquois Lighthouse. 39 wooded sites with swimming beach, boat launch, and fishing on Monocle Lake for walleye, smallmouth bass, pike, and perch. Wildlife trail through the Monocle Lake wilderness leads to an elevated boardwalk with a viewing platform over an active beaver pond. Trail continues uphill to a scenic overlook where you can see the shipping channel in the St. Mary's River and the hills of Canada.
Soldier Lake Campground is between Raco and Strongs Corner on M-28. Turn south from M-28 on Forest Road-3138 for the entrance to the campground. 44wooded sites with swimming on Soldier Lake, boat launch, hiking trails, and fishing.
Three Lakes Campground is south of M-28 at Strongs Corner. Turn south on Forest Road-3142 and go 3 miles south to the campground. 28 wooded sites with a boat launch and fishing, (no swimming beach).
| | |
| --- | --- |
| | |
| Monocle Lake Campground | Nature Trail at Monocle Lake |
State and National Forest campgrounds have spacious wooded sites with a tent pad, table, grill, and fire pit. Water from the hand pump.
Lake Superior State Forest west of Tahquamenon Falls State Park and north of Newberry has numerous rustic campgrounds on lakes and streams. Great fishing, ATVing, canoeing, and kayaking. Boat Ramps. Some campgrounds have swimming beaches. Most are located on gravel roads. Directions are from Highway M-123.
Bass Lake (18 sites) 9.5 miles N of McMillan on CR-415 & 455
Blind Sucker River #1 (13 sites) 32 miles N and W on CR-407
Blind Sucker River #2 (36 sites) W of Muskallonge Lake on CR-407
Bodi Lake (20 sites)12 miles north on CR -500, 2 miles E. on CR-437. Campground and boat launch are open.
* Culhane Lake (22 sites) West on M-123, 12 miles north on CR-500. Closed indefinitely but the boat launch is open.
High Bridge (7 sites) 22 miles north of Newberry on CR-407
Holland Lake (15 sites) 24 miles N on CR-407, 3 miles W on CR-416. ORV friendly
Lake Superior (18 sites) 6 miles west of Muskallonge Lake on CR-407
Natalie Lake (12 sites) 2 miles N of M-28 on CR-405, 1 mile W on CR-434
Old Headquarters Lake (8 sites) 23 miles N on CR-407.
Perch Lake (35 sites) 24 miles north on CR-407
* Pike Lake (23 sites) 6 miles N on CR-500, 3 miles W on CR-414. Closed indefinitely.
Pretty Lake (18 sites) 24 miles N on CR-407, 3 miles W on CR-416
Reed and Green Bridge (4 sites) 24 miles N on CR-407, 5 miles E. on CR-410
* Two Hearted River on Lake Superior (45 sites.) 6 miles N on CR-500, 4 miles W on CR-414, 5 miles north on CR-423. Day use area, bridge, and boat launch are open. Loop #1 and Loop #2 : Campgrounds are both open.
Information on campgrounds at the DNR District Office in Newberry, located at the junction of M-28 & M-123. Phone: 906-293-5131
Camping at Tahquamenon Falls State Park
Back to Upper Peninsula State Parks
Upper Peninsula Campgrounds
Back to Lodging in the Upper Peninsula
Back to Upper Peninsula Traveler Page
Back to Home Page: Exploring the North