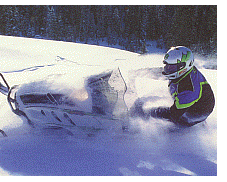 Bill Nicholls Multi-Use Snowmobile and ATV Trail in the Keweenaw Peninsula
Food and Lodging on the
Bill Nicholls Trail
Snowmobile Trail Conditions for the Upper Peninsula
The end points of the trail are at Houghton and Adventure Mountain, near of Mass City, MI.
Suggested trailheads are at Houghton, South Range, Toivola, Twin Lakes, and Mass City.
Length: 40.5 miles
ATV and Snowmobile Multi-Use Trail
If you are looking for a rail trail in the Upper Peninsula of Michigan that is scenic and challenging, this could be the trail for you. After all, how many rail-trails have Adventure Mountain and the old Adventure Mine as a trailhead?
Abandoned in 1972 by the Copper Range Railroad, this corridor has served primarily as a snowmobile and ATV trail since its acquisition by the Department of Natural Resources in 1974.
The trail begins on Canal Drive, west of downtown Houghton, and parking is available at Veramize Park (south of the trail) along the Portage Lake Ship Canal. From the park, go up the hill on Lake Avenue and turn right on Canal Drive. The trail starts on the south side of the road.
The trail turns south about 11/2 miles later, where a scenic overlook offers views of the Portage Lake Ship Canal. Beyond the overlook the trail continues to climb for another 2.5 miles, you will cross your first road before approaching some houses.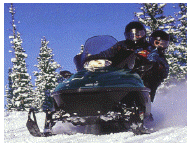 A mile beyond the houses, the trail splits and you should stay to the right. The trail splits again 0.3 miles later at a location known as Mill Mine Junction. Here you veer to the left. The trail to the right is the Freda Trail.
After another mile, you will reach a sign over the trail welcoming you to South Range 5 miles south of Houghton. This town offers various services, most of which appear listed on the sign over the trail. If you want a great place to stay on the trail, try the new Wildlife Refuge Housekeeping Cabins in South Range. 4 cabins sleep 1-6 and 2 cabins sleep up to 10. Fireplaces, sauna, TV, VCR, rental snowmobiles and ATV's delivered to your cabin.
A couple of miles south of South Range, outside the community of Painesdale, the trail enters an area heavily impacted by mining activities. The trail passes old ruins and mine tailings as well as an old Copper Range Railroad rail car. The trail continues past another old mining operation and through a tunnel of trees. Then, with a tower as your beacon, you arrive at the community of Toivola, which offers a restaurant and a small grocery store. This is nearly nine miles outside of South Range.
| | |
| --- | --- |
| | From Toivola to the State Park at Twin Lakes - about eight miles-the trail passes several small lakes and traverses scenic woodlands. The trail parallels M-26 for seven miles, allowing easy access to nearby businesses that cater to park users and also to Twin Lakes State Park. If you want a weeks lodging or just to spend the night contact the Hallmark Hut. |
Twin Lakes is the highest snowfall area in the midwest with an average snowfall of 390 inches. The snowfall in this part of the country is perfect for snowmobiling. It isn't measured in inches, it's measured by feet ! (usually around 16-20 feet between December and April.)
The trail continues on for about 15.5 miles to the trailhead at Adventure Mountain. Near the park, the trail parallels M-26 for a few miles. After crossing M-26 you will enter the trail's most scenic section, which stretches nearly 11 miles. The highlights include crossing the Firesteel River (on three successive steel bridges that total 1,288 feet in length and have a maximum clearance over the water of 85 feet).
After crossing the bridges, the trail crosses M-38 less than two miles after the last bridge and then splits a half-mile later. Stay to the right, although it looks as if you should go to the left. This section is quite rugged. Look for a sign that points you to the right. From here the trail goes cross-country for 1.5 miles to the trailhead at Adventure Mountain.
Food and Lodging on or near the Trail:
Big Buck Cabin and 38 Lodge, Highway M-38, Greenland, MI 49929, Phone:906-250-4903. Big Buck Cabin has one bedroom, a sleeping loft with 2 twin beds, and a sofa sleeper in living area. 38 Lodge offers 3 bedrooms. Each rental has a complete kitchen, gas fireplace, and easy access to snowmobile, atv, and mountain bike trails. 13 miles south of Ontonagon near the Ottawa National Forest and only a short distance from the Porcupine Mountains Wilderness State Park.On trails 12 (Bill Nicholls) & 13.
Hallmark Hut is located in Twin Lakes, 26 miles south of Houghton by the Bill Nicholls ATV, snowmobile, and mountain biking trail with easy trail access. Newly opened, the Hallmark Hut is fully furnished with new appliances, flat screen satellite TV, and Wi-Fi. Across from Lake Roland for swimming, fishing, and boating. Golfing nearby. Hallmark Hut, 32913 N. Parkside Drive, Twin Lakes, (Toivola) MI 49965. Phone: (906) 288-3100.
Wildlife Refuge Cabins, 101 Wildlife Lane, P.O. Box 508, South Range, MI 49963. Call 906-482-1001 or 888-510-1001. Six fully furnished new housekeeping cabins, 3 cabins sleep 1-6, 2 cabins sleep up to 10, and 1 is handicap accessible. Fireplaces, sauna, TV, VCR, on the Bill Nicholls Trail. Rental snowmobiles and ATV's delivered to your door. 5 miles south of Houghton on M-26, within walking distance of taverns, restaurants, gas and supplies.
Gas in Mass City and Twin Lakes
The Bill Nicholls Trail is also open for ATVing and mountain biking. There are connecting trails and back roads to use in the Mass City area that connect to the Rockland to Bergland Trail. Please use designated trails and back roads and not the snowmobile trails.
Snowmobile Rental at Houghton Power Sports in Atlantic Mine just south of Houghton
ATV and Snowmobile Rentals at Dan's Recreation and M&M Power Sports in Hancock
Back to the Keweenaw Peninsula
Snowmobiling the Keweenaw Peninsula
Snowmobiling in the Upper Peninsula
Recreation in the Upper Peninsula
Back to the Upper Peninsula Traveler
Back to Exploring the North Home Page
Copyright 1998 by Vivian Wood, webmaster. All Rights Reserved. Except as permitted under the Copyright Act of 1976, as amended, this web site may not be reproduced in whole or in part in any manner. Unless authorized by the webmaster, reproduction of any picture, web page or pages on this website, www.exploringthenorth.com, for placement on the internet is a copyright infringement. All right, title and interest in and to the material on these web pages, the web site, in whole or in part, and in and to this url and the urls contained within, is the property of the webmaster. All website design, text, graphics, selection and arrangement thereof are the copyrighted works of Vivian Wood. Web site created on an Apple G-4/